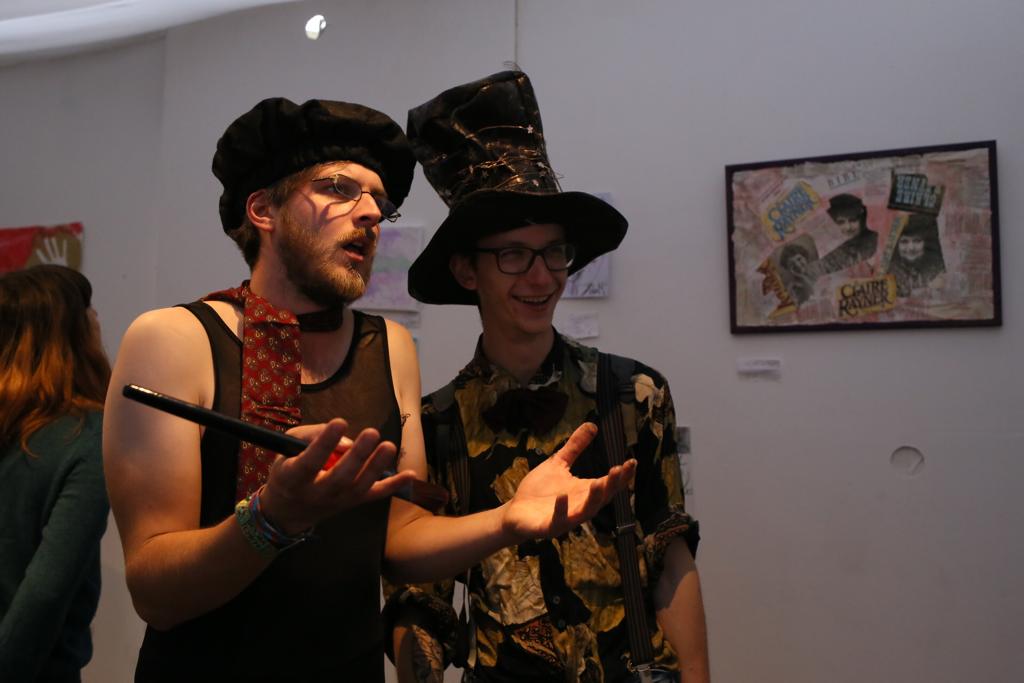 Tat Modern
by 6footstories
F&B Unit 78, Eastgate Centre, Basildon SS14 1AF
The Tat Modern is a very silly, massively interactive, spoof art gallery where the people of Basildon will be invited to make and trade all kinds of incredible and terrible artworks. It's a place where everyone can be an artist and have their 15 minutes of fame. A place to be playful, messy and feel special.
At the Tat Modern, you'll find the gallery, where you'll be encourage to take home any piece of art that takes your fancy. But if you see something you like, you must give us something in return.
The Tat Modern is built on the principles of their longstanding festival show The Gypsy Lodge – the heart of which is the SWAP SHOP. Our motto is YOU DON'T SWAP, YOU DON'T GET, and the same rule applies here.
So if you like an artwork and want it, you'll have to haggle with us, and convince us that whatever you have to swap is a valid replacement.
REMEMBER – ANYTHING IS ART AS LONG AS IT'S IN A FRAME (and has a signature)
Don't have any art to hand? Well then why don't you make some..?
The second part of the Tat Modern is the open studio. This is where you can watch the artists artwork, or grab a canvas yourself and get creative. There will be tons of art supplies and materials, and they promise to display anything you make. ANYTHING.
And all visitors will get a free glass of champagne! (It might be Appletiser.)
Opening Times
Saturdays: 9am – 5.30pm
10am: Quickfire Portrait Sessions (15mins)
11am, 12pm, 1pm, 2pm, 3pm, 4pm: Tat Modern Masterclasses (30mins)
CLOSED SUNDAY 27TH JUNE
Sundays: 10am – 4pm
10am, 11am, 12pm, 1pm: Tat Modern Masterclasses (30mins)
30th May, 6th June, 13th June, 2pm-4pm: take part in a gameshow extravaganza, The Big Bingo Balls Up, filled with lots of art-themed mini rounds!
Half Term Special
Monday 31st May: 9am – 5.30pm
10am, 2pm, 3pm, 4pm: Tat Modern Masterclasses (30mins)
11am – 1pm: Potato Puppet Playground – The Tat Modern's family experience where participants make their very own potato puppet which is then featured in an incredible improvised adventure story.
Thursday 3rd June: 9am – 5.30pm
10am, 2pm, 3pm, 4pm: Tat Modern Masterclasses (30mins)
11am – 1pm: Potato Puppet Playground
Friday 4th June: 9am – 5.30pm
10am, 2pm, 3pm, 4pm: Tat Modern Masterclasses (30mins)
11am – 1pm: Potato Puppet Playground
Suitable for all ages. No booking required, just turn up.
About 6FootStories
We are 6FootStories – a touring theatre company founded by writer-performers Jake Hassam & Nigel Munson. We make new plays, reworked Shakespeare shows and all sorts of interactive experiences. We love making work for festivals and pop-up events – we've been touring the UK festival circuit for 10 years now and cannot wait to be back in the fields this summer. Open Lab is, for us, a chance to bring some of that anarchic festival energy to the town centre.
Activities
Visitors can peruse the artworks in our swanky gallery – all made by fellow Basildonians. Or they can visit our open studio, where they can grab a canvas and a toothbrush and make their own pile of (Jackson) Pollocks.
Our larger-than-life artist tutors will be on hand to deliver masterclasses and workshops in such innovative techniques as elbow painting, cuddly toy life drawing and condiment painting.
Expect masterclasses on-the-hour-every-hour at the Tat Modern. Masterclasses may include: Cuddly Toy Life Drawing, Toothbrush Stencil Art, Condiment Painting, Human Sculptures, WordArt and many many more!
One lucky visitor will be chosen as our resident artist's muse, and will win an all-expenses-paid trip to the artist's studio, where they will have the amazing opportunity to pose for the artist for THREE HOURS STRAIGHT!
There will be a SUPER DELUXE MYSTERY PRIZE for the best piece of artwork created on our launch date – come on down and be the Pollock you know you can be!