When i say essex, what do you see?
by George Morgan
37 – 39 Market Pavement, Basildon Town centre, SS14 1DB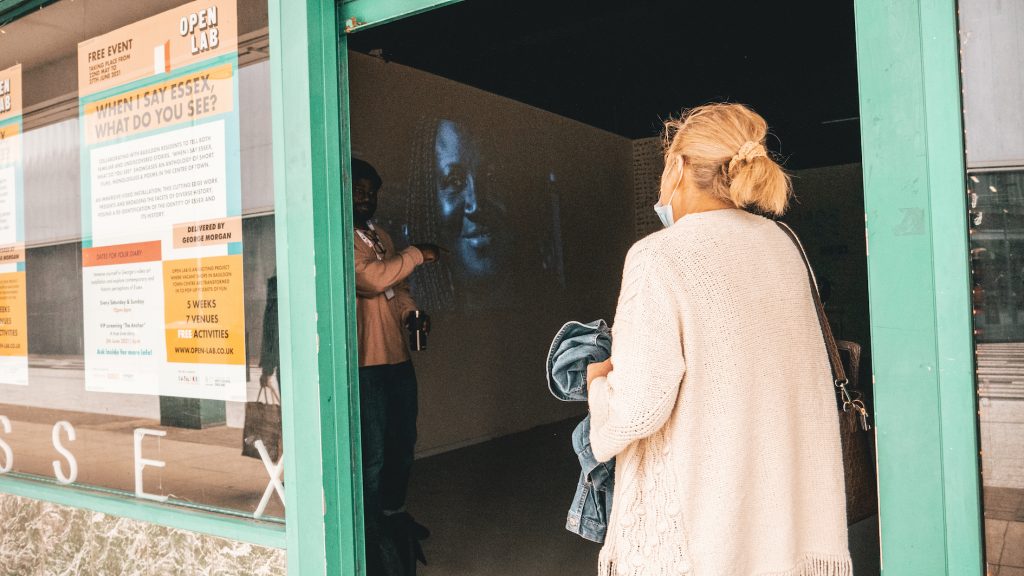 Presenting to you When I say Essex, what do you see? is a video art installation by George is bringing you an anthology of short films and a monologue, based on the questions, When I say Essex, what do you see?
Exploring and re-identidying contemporary and historic perceptions of the Essex identity and its History.
Bringing you an immersive experience, you'll be able to learn all about the hidden and unearthed stories of Essex. Being release in two phases in phase 1, youll be able to visit and see:
'Basildon Mon Amour', a homage to George's favourite film, this will explore the migration of families, couples and bodies after the destruction of WW2.
'Shining a Light' Is all about celebrating black skin on screen, this will be a silent montage of shots that slowly change in sync with camera movement and lighting change.
'I am here' tells the story of a man trying to decide which version of himself he intends to send to a big job interview. This will be a representation of how George and other black men in Essex feel the need to present 'socially acceptable' facets in spaces and how peculiar navigation can feel.
Keeps your eyes peeled for phase two, coming May 31st..
Opening Times
Drop in every weekend to experience the unearthed hidden stories of Essex. Suitable for all ages. No booking required.
Saturdays: 12pm – 6pm
Sundays: 12pm – 6pm
SUNDAY 27TH JUNE – 10AM – 2PM
SAVE THE DATE
On Saturday 5th June at 6pm, George will be screening local love story, 'The Anchor' a short film premier that celebrates the true love story between John and Sylvia Murrill, who met at a Christmas party in Vange, 1991.
You can book and secure your seat below!
About George Morgan
My name is George Morgan and I'm a teacher, writer, producer, Board member at Queens Theatre Hornchurch (QTH) and founder of Essex Visual Arts. I have a passion for inclusivity and diversity amongst young and underserved members of the community wanting to get into the arts. I gravitate towards stories that unapologetically explore the intersectionality of the black British experience, both historic and contemporary. The growing exploration in my ancestral roots with Sierra Leone has uncovered an influx of hidden stories, people and places that will inevitably bring the British empire into a dramatic form with an investigative exploration at its heart.